JW: Can you give me a brief description of the work you did in the Special Topics class?

DW: The Special Topics/Gallery Management class involved many aspects of art exhibition work. I was able to understand and apply the meticulous organizational tasks that are required in coordinating a big art show. From receiving and tracking shipments to proper labeling, listing, cataloguing, creating displays and jurying the artwork -- this was an excellent opportunity to learn to work effectively in the art world with rigid deadlines.
JW: Why did you sign up for the class -- what attracted you to it?

DW: In general, I sign up for any course that involves application, not just theory. This course in particular worked well with my study emphasis in museum work. As a senior Visual & Public Art student, practical applications and experiences are my stepping stones and connections long after my graduation date. A contact such as this takes me well beyond the classroom and into new alliances in the art world, if not the community at large.
JW: Why are you interested in museum work?

DW: I have been a faithful visitor of museums all my life. This is an important means to absorb historical, social and political information. Even more fascinating is who or what is deemed museum worthy.
JW: How was the relationship with the RUAP community partner, the Boys and Girls Club?

DW: Working with the Boys and Girls Club was a positive experience. Staff members were an open-minded, open-hearted lot. Everyone had a great disposition, a sense of negotiation and cooperation. An easy organization to work with and learn from.
JW: Did you get the guidance you needed to complete the project?

DW: Jim Sarno led the project with great efficiency and organization. He is an articulate person with natural teaching ability and loads of patience. His enthusiasm and optimism was contagious and helped to create an ideal working atmosphere. I felt all my questions and curiosities were answered about the work involved. I also feel honored that I had the opportunity to brainstorm with an established and multi-talented artist.
JW: Was it a good learning experience?

DW: I came away from the project with skills I didn't have before. Now I feel I have enough information to independently organize an exhibition, if I choose to do so. To me, this is useful for a lifetime.
JW: Were you happy with the final product?

DW: It was reassuring to see that the muscle work, paperwork and planning were completed by deadlines and appeared as I had imagined. As an artist, I know that not every result appears as imagined, so this means a lot to me. So, yes, I was happy with the result.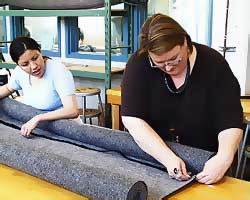 JW: Would you work with RUAP again?

DW: My pet projects at CSUMB have always been with RUAP. The projects are the reach-for-the-sky kind, always challenging, very community-oriented and alliance-building. When I leave the university, I will continue to benefit from my past work with RUAP. It makes for an interesting portfolio and has provided new networks for me that will most likely prove beneficial in the years to come.
JW: Is there anything else you'd like to add?

DW: Thanks for the opportunity!